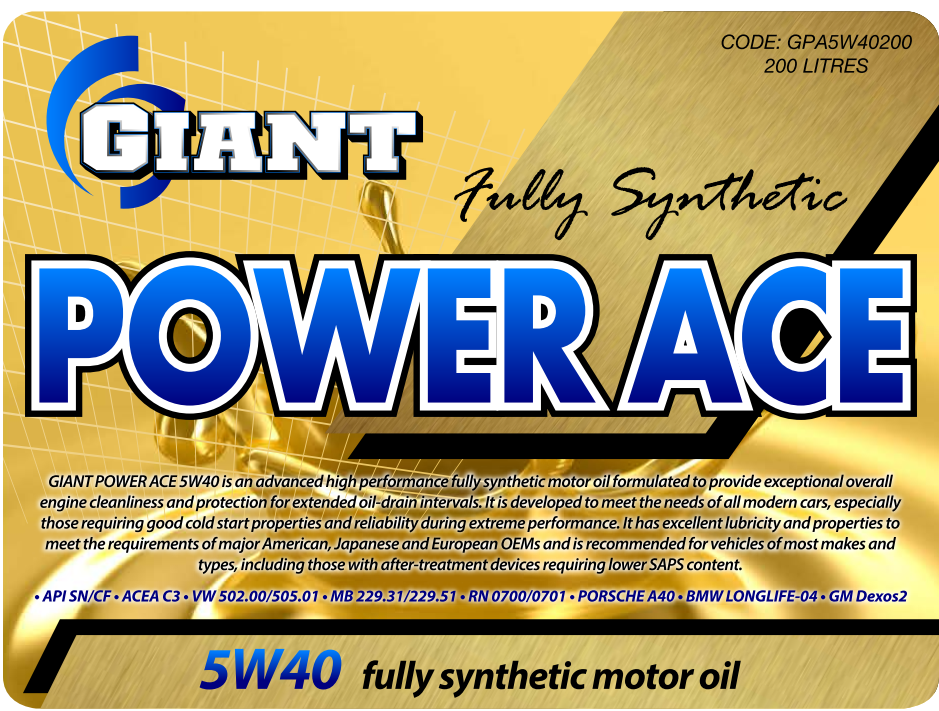 Power Ace 5W40 – Available sizes: 1L, 5L, 20L, 200L
GIANT POWER ACE 5W40 is an advanced high performance fully synthetic gasoline motor oil formulated to provide exceptional
overall engine cleanliness and protection for extended oil-drain intervals. It is developed to meet the needs of all modern gasoline
and diesel cars, especially those requiring good cold start properties and reliability during extreme performance. It has excellent
lubricity and properties to meet the requirements of major American, Japanese and European OEMs and is recommended for
vehicles of most makes and types, including those with after-treatment devices requiring lower SAPS content.
Properties
Outstanding oxidation and thermal stability.
Resists formation of lacquer, varnish, sludge and other deposits.
Keeps pistons clean and prevents piston rings from sticking.
Controls acidity within the engine and protects it from corrosion.
Excellent anti-wear properties to prolong life of moving parts.
Maintains required oil flow during low temperatures and ensures protection at high temperatures.