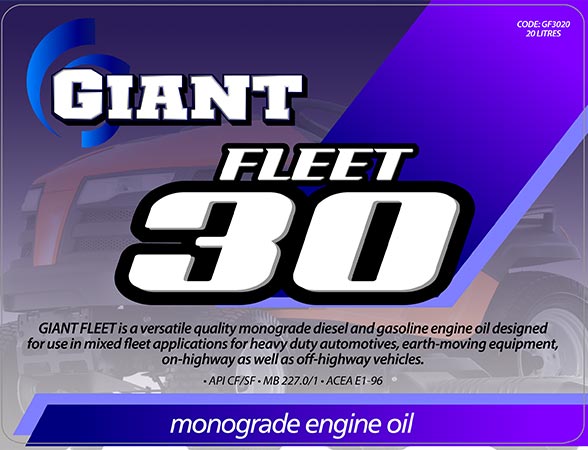 GIANT – FLEET 30 – Available sizes: 1L, 5L, 20L, 200L
GIANT FLEET is a versatile quality monograde diesel and gasoline engine oil designed for use in mixed fleet applications for heavy duty automotive, earth-moving equipment, on-highway as well as off-highway vehicles.
GIANT FLEET contains specially selected inhibitors to control oxidation, sludge and undue thickening during oil drain periods. The high level of anti-wear additives also protects against wear and rusting. Strong detergent-dispersant additives also ensure that the engine remains clean and efficient. The use of a premium grade viscosity index modifier results in easy flow at low temperatures and excellent film protection in the hot regions of the engine.
GIANT FLEET exceeds the API CF standard and are available in the popular viscosity grades of SAE 30 & 40.
Properties
Outstanding oxidation and thermal stability.
Resists formation of lacquer, varnish, sludge and other deposits.
Keeps pistons clean and prevents piston rings from sticking.
Controls acidity within the engine and protects it from corrosion.
Excellent anti-wear properties to prolong life of moving parts.
Maintains required oil flow during low temperatures and ensures protection at high temperatures.