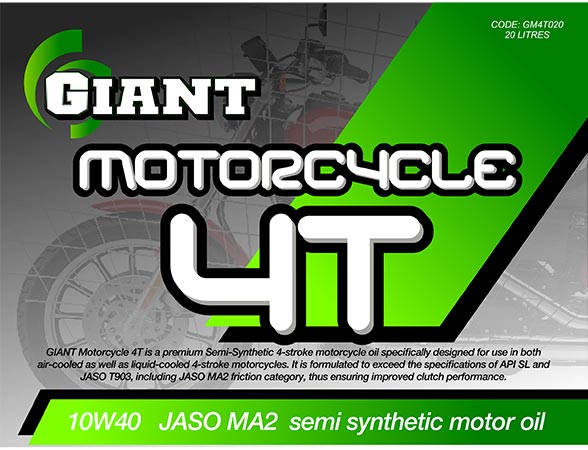 GIANT MOTORCYCLE 4T 10W40 – Available sizes: 1L, 5L, 20L, 200L
GIANT Motorcycle 4T is a premium Semi-Synthetic 4-stroke motorcycle oil specifically designed for use in both air-cooled as well as liquid-cooled 4-stroke motorcycles. It is formulated to exceed the specifications of API SL and JASO T903, including JASO MA2 friction category, thus ensuring improved clutch performance.
GIANT Motorcycle 4T is also a shear-stable multi-grade lubricant suitable for high output four-stroke engines operating under severe riding conditions. The state-of-art additive system ensures excellent protection against wear, rust and corrosion, as well as minimises the formation of sludge and varnish deposits.
Properties
Premium-quality oil that meets or exceeds the warranty requirements of most manufacturers for 4-stroke motorcycles with a specification for JASO T903, JASO MA2 and/or API SL.
Superior gear and wet-clutch performance.
Excellent anti-foaming & anti-corrosion properties.
Keeps the engine clean and in good condition, even while operating at high temperatures.
Semi-Synthetic base ensures a higher Viscosity Index to counter the variance of viscosities under different temperatures, providing ample protection even at higher temperatures.
Compatible with commercially-available motorcycle oils.
Better thermal stability and oxidation controls allow for extended drain intervals.