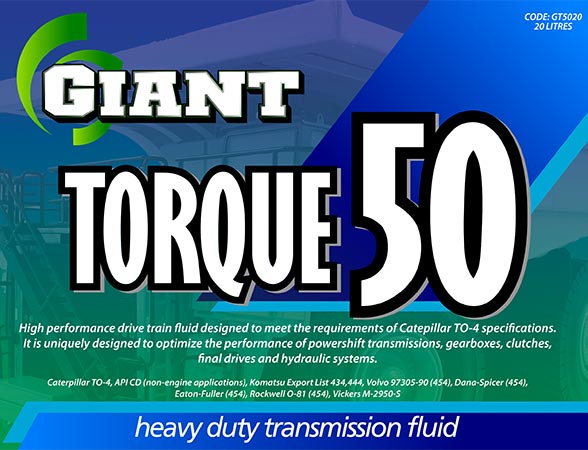 GIANT TORQUE 50 – Available sizes: 20L
GIANT TORQUE is a high performance transmission and drive train lubricant engineered by combining highly refined basestocks with supreme additive packages. It is uniquely designed to optimize the performance of powershift transmissions, gearboxes, clutches, final drives and hydraulic systems.
GIANT TORQUE is formulated to meet Caterpillar TO-4 requirements.
Properties
Excellent frictional properties: Optimum clutch friction retention & slippage control, Excellent anti-chatter brake performance, Extended clutch & brake life
Excellent load carrying, anti-wear and EP performance: Greater wear protection + extended component life = reduced cost of operation
Prolonged oil service life: Outstanding protection against deposit formation, longer seal life, extended drain & service intervals
Maintains correct shifting patterns: The silicone foam inhibitor minimizes foam formations while enabling rapid release of entrained air to ensure smooth shifting in powershift transmissions and also optimizes performances in the wet brakes and hydraulic system
Excellent thermal and oxidation stability: Long oil-life + reduced wear = extended equipment life
Very good low temperature pumpability: Reduced time from start-up to production