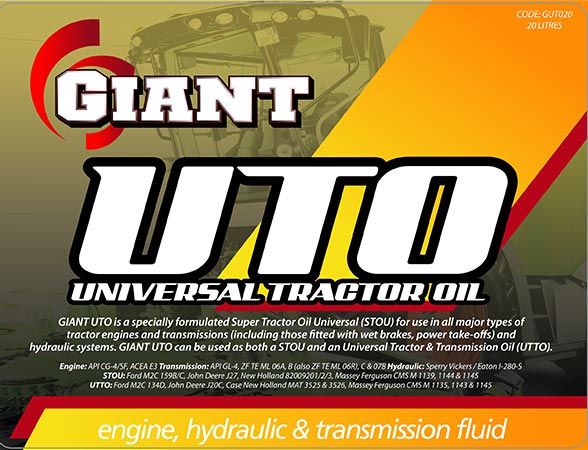 GIANT UTO – Available sizes: 5L, 20L, 200L
GIANT UTO is a specially formulated Super Tractor Oil Universal (STOU) for use in all major types of tractor engines and transmissions (including those fitted with wet brakes, power take-offs) and hydraulic systems. GIANT UTO can be used as both a STOU and an Universal Tractor & Transmission Oil (UTTO).
GIANT UTO is truly an economical oil covering all the lubrication requirements of the tractor. It's wear and frictional control makes it suitable for all transmissions, including powershifts. It also offers good protection for hypoid axles which have completed break-in.
Properties
Excellent wear and frictional control.
Protects against high and low temperature deposits, corrosion, rust and wear in all service conditions.
Exhibits gear protection for hypoid axles, which have completed break-in.
Designed with good elastomer compatibility.
Provides diesel engine performance up to and including API CG4.
Prolongs the life of brakes and transmissions.
Economical as it is truly universal covering all of a tractor's lubrication needs.