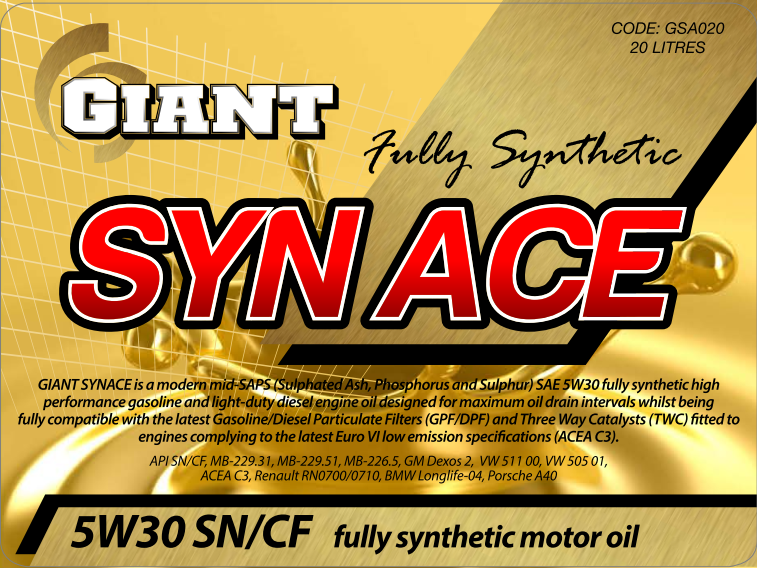 GIANT SYN ACE 5W30 SN/CF/C3 – Available sizes: 1L, 5L, 20L, 200L
GIANT SYNACE is a modern mid-SAPS (Sulphated Ash, Phosphorus and Sulphur) SAE 5W30 fully synthetic high performance gasoline and light-duty diesel engine oil designed for maximum oil drain intervals whilst being fully compatible with the latest Diesel Particulate Filters (DPF) and Three Way Catalysts (TWC) fitted to engines complying to the latest Euro IV and Euro V low emission specifications (ACEA C3-12).
GIANT SYNACE is formulated with selected fully synthetic base stocks, performance-enhancing additives for outstanding thermal & shear stability, improved viscosity-temperature characteristics and excellent low temperature fluidity. The synergistic performance derived from carefully chosen synthetic base stocks and additive packages, ensure superior protection against wear, deposits, varnish, rust and corrosion.
GIANT SYNACE meets and/or exceeds multiple industry and engine manufacturers' standards. It can easily satisfy the warranty requirements of many major OEMs such as Daimler Chrysler, GM, Renault, Porsche and Volkswagen, meeting BMW Long life test standards as well as API Energy Conserving requirements.
VW 502 00/ 505 01/ 511 00
Properties
Surpasses the warranty service requirements for a wide range of engines
Premium performance for mixed fleet operations, including those with after-treatment devices requiring lower SAPS
Superior piston cleanliness
Reduced wear = extended engine life; lower SAPS = extended life of after-treatment devices
Excellent shear stability ensures viscosity integrity throughout its service life and reduces oil consumption
Enhanced film strength at high temperatures
Extraordinary oxidation and thermal stability for extended oil drain intervals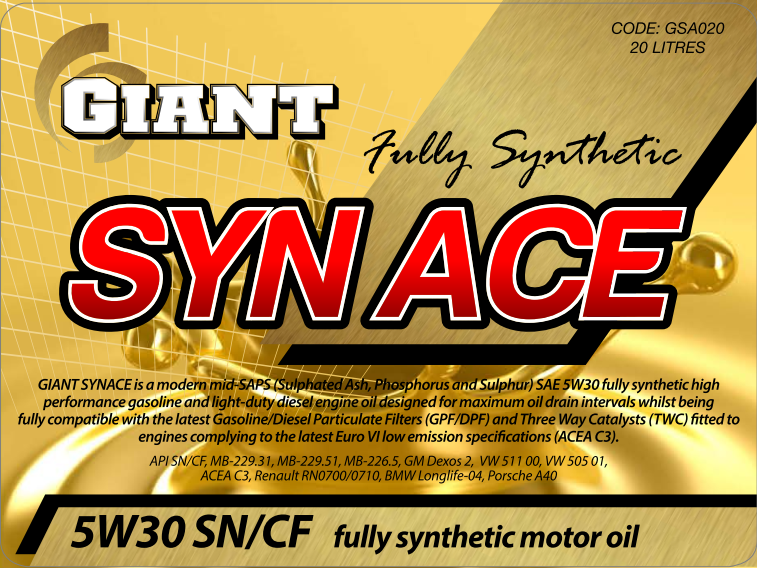 GIANT SYN ACE 5W30 SN/CF/C3 – Available sizes: 1L, 5L, 20L, 200L
GIANT 1 Bike-Race 10W60 is a premium Fully Synthetic 4-stroke motorcycle oil specifically designed for use in extremely stressed four-stroke engines and wet clutch applications such as conditions faced during a race or off-road biking.
The combination of synthetic base oils with a unique system of enhancing additives, invented on the basis of modern scientific research of additive package technology, ensures that Giant 1 Bike-Race has the latest dispersant, detergent, anti-wear, corrosion inhibitor, viscosity improver, oxidation inhibitor, and de-foaming additive technologies with an extremely high shear-stable viscosity index improver. This formulation provides excellent engine protection, particularly useful in engines and clutches exposed to high thermal and shear stresses.
Properties
GIANT 1 Bike Race 10W60 is a race-quality oil that meets or exceeds the warranty requirements of most manufacturers for 4-stroke motorcycles with a requirement for JASO MA, API SL.
Fully Synthetic base oils form a stable high-performance lubricating film that can withstand high temperatures, while still retaining a sufficient level of lubrication even after the engine has been shut down for some time. This retained film of lubrication ensures an easy start and reduces the cold start wear even under very difficult conditions.
Significantly less bearing, ring, piston, cylinder and valve-train wear especially during high soot, high temperature and shearing stresses, exhibiting superior low volatility characteristics that result in improved oil consumption.
Excellent anti-foaming & anti-corrosion properties
Keeps the engine clean and in good condition
High Viscosity Index = Stable viscosity that gives optimum acceleration & engine protection during start up as well as high temperature operation.
Compatible with commercially-available motorcycle oils
Significantly less bearing, ring, piston, cylinder and valve-train wear especially during high soot, high temperature and shearing stresses, exhibiting superior low volatility characteristics that result in improved oil consumption.
Excellent detergency that enhances piston cleanliness and protection even while operating at high temperatures, and protects against bore polishing and scuffing.
Ideal for wet multi-disc clutches requiring JASO MA approval